Lifelong Learning for Adults
Lifelong Learning for Adults
See our accomplishments in Lifelong Learning for 2021-2022
We believe that learning is a central part of life for both adults and children. Our adult learning community is an integral part of many members' lives in their lifelong pursuit of Jewish literacy and personal growth.
Our programs are driven by the diverse interests of our members. We provide learning opportunities that are accessible to learners at all levels of understanding. See detailed listings of our current Lifelong Learning offerings below.
Temple Beth Shalom members, want to be added to the Lifelong Learning email list? Log in to your account and add lifelong learning to your subscriptions.
Non-members, complete our Membership Inquiry Form for information about membership and congregational life.
Have ideas for a class you'd like to lead? Submit our proposal form!
---
Updated May 18, 2023
Ongoing Education Opportunities
Torah Study
Saturdays at 9:00 a.m.
Whether you have the Torah memorized, or you haven't read the Torah for years, or you've never read it, this group is open to those interested in delving into the text. Learn what the Torah says and how it is relevant in our daily lives. The group is guided through an insightful and lively discussion led by one of our rabbis, educators, or lay leaders. It is helpful but not at all necessary to have your own Torah. Contact us to receive more information about taking part in Torah Study. Free for members and non-members.
Kol Hakavod Ensemble
Do you sing? Play a musical instrument? Join the Kol Hakavod ("Voice of Honor") Ensemble, our congregational choir and instrumental group!Kol Hakavod is both a dedicated choral and instrumental ensemble and an opportunity for ongoing adult education. Being a choir member provides you with a unique opportunity to explore Jewish music from the past and present under the guidance of Cantor Abby Gostein. See more information and fill out our participation form here.

Recipes & Reminiscing
Join any of these individual class events to learn about and cook traditional Jewish foods. Want to view the recipes compiled from other meetings of Recipes & Reminiscing? Check them out here!
One-Time or Short-Term Education Offerings
Reading Rabbis With Rabbi Steinman
Tuesdays at noon from Sept. 13-May 9
Join Rabbi Steinman once per month to learn a text from rabbinic literature that will help to inform the ways we make decisions today. Learn more.
Congreg
ational Trip to Israel
May 30-June 7, 2023
Travel to Israel with your temple friends! Rabbi Ellie Steinman and Kelly Finkel will lead the trip, which is appropriate for all ages, from May 30-June 7, 2023. The tour will encompass Jerusalem, the Dead Sea, Galilee, and Tel Aviv. An optional trip extension to Jordan is also available. See more information.
Learn to Read Hebrew for Adults
April-June 2023
Ten one-hour online classes, $225 (scholarships available)
Learn to Read Hebrew for Adults from the URJ is now enrolling! Familiarity with Hebrew can be a key to feeling at home in the Jewish community. Ten live, online class sessions with experienced Hebrew educators and a community of learners, coupled with independent practice between sessions, will enable students to master the alef-bet and recognize and understand common Hebrew words and phrases that are often heard in Reform congregational life. This course assumes no prior Hebrew experience. A true beginner's course! After registration, students are given the Zoom link for our live classes, a link to purchase the workbook, and access to extensive online course materials. Tuition is $225 and scholarships are available upon request.
Adult B'nai Mitzvah Program
The Adult B'nai Mitzvah Program includes 15 months of study, Hebrew language learning, and the opportunity learn alongside fellow members, clergy, and Jewish educators. The first cohort of students concluded with the simcha of a shared b'nai mitzvah on March 19 and April 2, 2022. Interested? Contact us for information about future opportunities.

Lunch and Schmooze for Congregants Living Alone
Led by Cantor Gostein
Every other Thursday, 12:00 p.m.-1:00 p.m.

Temple Beth Shalom members, please contact us to obtain the password to join this meeting.
Join by Zoom (video)
Join by phone (audio only): Call 346-248-7799 and enter meeting ID 722-036-738 when prompted.
Offerings from HUC
Explore the high-quality classes offered by HUC—the premier Jewish seminary in North America and the academic, spiritual, and professional leadership development center of Reform Judaism. Best of all, the classes are free to all temple members!

PEOPLE LOVE DEAD JEWS: PROVOCATIVE BOOK TITLE OR TROUBLING TRUTH?
A lively and thought-provoking discussion about Horn's controversial new essay collection People Love Dead Jews.


FINDING YOUR FAMILY (AND YOURSELF)
Jai Chakrabarti explores unexpected avenues to discovering family and identity in his new short story collection.

Subscribe to the College Commons Podcast to listen to our full archive of episodes.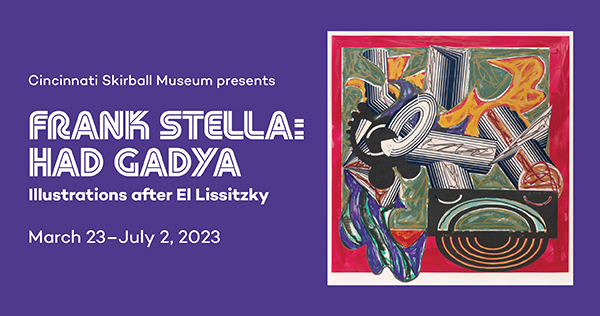 One might not immediately associate Frank Stella (b. 1936), the American painter, sculptor, and printmaker noted for his work in the areas of minimalism and post-painterly abstraction with a cumulative, lyrical poem that concludes the traditional Seder, or festive meal, on the Jewish holiday of Passover.
Had Gadya (One Little Goat) is one of the earliest recorded songs for children. Just as each verse of the song builds on one before it, Stella builds on the original 1919 series of prints by Russian-Jewish avante-garde artist El Lissitzky (1890–1941). Lissitzky, who began his career illustrating Yiddish children's books, created a print for each stanza of the famous song. Stella first encountered these works in the Tel Aviv Art Museum in 1981 and was profoundly inspired by their movement and the vibrancy of the simplified, graphic forms.
Frank Stella's Had Gadya print series took two years to complete. The large prints were created using a combination of various techniques—lithography, linoleum block, silkscreen, and rubber relief with collage elements and hand-coloring. The prints were finally published by Waddington Graphics, London, in 1984. After completing the edition, Stella created between two and nine variants of each of the twelve Had Gadya illustrations.
The Skirball Museum is the second venue for a national tour of the three Hebrew Union College-Jewish Institute of Religion campuses in North America. Frank Stella: Had Gadya appeared at the Los Angeles campus March 31–December 31, 2022 and will be on view at the Dr. Bernard Heller Museum on the New York campus September 7, 2023 – March 2, 2024.
ONE GOAT: COUNTLESS PERSPECTIVES
Wednesday, June 7, 2023 at 7:00 p.m.
In-person and via Livestream
Mayerson Hall, Hebrew Union College-Jewish Institute of Religion
3101 Clifton Avenue, Cincinnati, OH 45220
Join newly ordained Cantor Ella Gladstone Martin for a multi-media virtual presentation on Had Gadya. The Passover Seder is an inherently musical experience, filled with beloved prayers and songs. Ella will discuss the research behind her graduating thesis, a historical examination of hagaddot (Passover Seder compendiums) that expressly set out to disseminate music, and survey the unique history, symbolism, and musical settings of Had Gadya.
Participate from the comfort of your home or join us at the Skirball where the program will be broadcast on the large screen in the very room where the Stella prints are displayed. The program will have live and recorded components, followed by opportunities for questions and comments from the audience.
Presented with HUC Connect.
Registration required. Livestream link sent upon registration.
Conversations on Judaism & Civil Society
Hebrew Union College presents conversations that bring social scientific rigor as well as a Jewish lens on pressing concerns of our civic life today, including race and identity, elections, prison reform, and religious voices on social justice issues. Explore the offerings.
Tue, June 6 2023
17 Sivan 5783
Tue, June 6 2023 17 Sivan 5783