Social Action

Tikkun olam - "repairing the world" is a hallmark of Reform Judaism as we strive to bring peace, freedom, and justice to all people.

Temple Beth Shalom, Congregation Beth Israel, and Congregation Shir Ami present the Second Annual MLK Social Justice Weekend
Justice, Justice Shall You Pursue
January 18-20, 2019
As we consider Dr. King's legacy and aim to understand how to respond Jewishly to important topics in the American public sphere, "Justice, Justice Shall You Pursue" will be an opportunity to reflect on Torah values regarding racial justice, learn about current issues and events from various perspectives, and respond by putting our values into action.
---
Residents of Community First! Village Enjoy Dinner Along With Knitted Gifts in 2018

On Dec. 18, Temple Beth Shalom's annual Knitzvah delivery included delivery of a special dinner to residents, too! Both the delivery and the dinner were a huge success.
Thank you to dinner organizers Judi Lefton and Carol Brown, and the following volunteers: Marcia Bernstein & Arnold Lopez Cepero, Mary Lou & Bob Batlan, Mona & David Carver, Sandy Dochen, Joan Edelstein & Eddie Astrich, Amy Fintel, Jeannie Hutchinson, Ann & Dave Kocher, Kathy Lindauer, Ilene Novy, Leslie Otis, Judy & Bob Polanski, Elyse Rosenberg, Jeri & Paul Saper, Susan & Arnie Slive, Nancy Wolf and Russ Apfel.
See more photos of the event!
---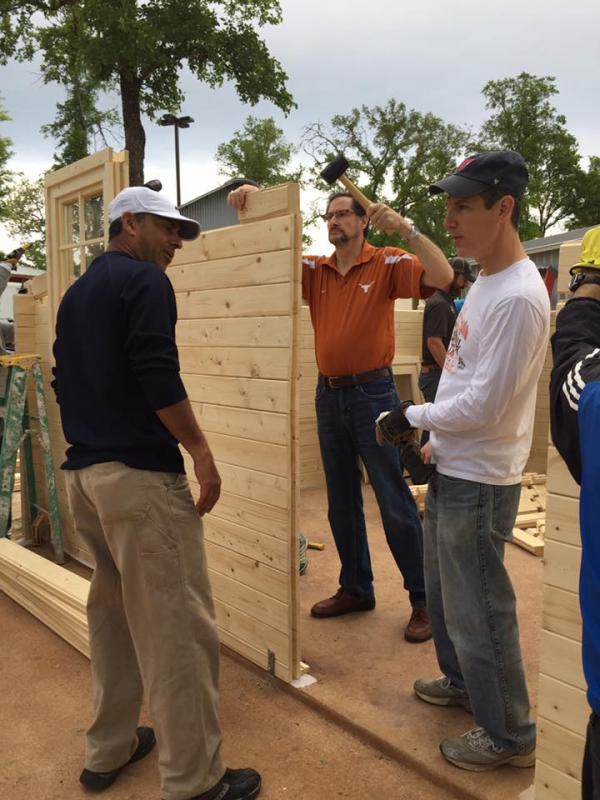 Service and Advocacy are who we are and what we do here at Temple Beth Shalom. We have two committees, Community Service and Advocacy, that organize a number of wonderful ongoing projects, as well as periodic events, throughout the year. 
The Community Service Committee meets monthly to fine tune projects we're working on. We encourage you to join us! Your participation in Service and/or Advocacy at Temple Beth Shalom will allow you to help heal the world, make new friends, and feel really good... we promise! 
Interested in service or volunteer opportunities? Please visit our
Volunteer page
or check out our current projects below.
Current Projects
Family Eldercare

Offer relief and support to family caregivers by providing 
care to their loved ones in the home. 

Interfaith Hospitality Network
Setting up/tearing down bedrooms, meal service/prep,
playing with children and helping them with homework,
and staying overnight with guest families.
Knitzvah
Knitting/crocheting hats,scarves, and gloves for those
in need in Austin.
Meals on Wheels
Deliver meals to homebound elderly, disabled and needy individuals.
Mitzvah on Wheels
A project to eliminate transportation barries that prevent
some of our members from fully participating in Temple Life.
Mental Illness
Interested in issues of Mental Illness? Contact Ilene Gray
or Laraine Lasdon for details about trainings, meetings,
NAMI Sponsored walks, and more!
Mitzvah Projects
Special projects in our religious and Hebrew school as well
as our students b'nai mitzvah projects.
Mobile Loaves and Fishes
Preps/serves food and creates micro-homes for the homeless
Record mothers at Gatesville prison reading a book to
each of their children and then send the book and CD
or tape with the mother's voice to the child.
Mon, October 14 2019
15 Tishrei 5780
Today's Calendar
Columbus Day
Temple office closed
---
Upcoming Programs & Events
---
Sukkot
View Calendar
Z'manim
Alot Hashachar
6:21a
Earliest Tallit
6:49a
Netz (Sunrise)
7:32a
Latest Shema
10:24a
Zman Tefillah
11:22a
Chatzot (Midday)
1:17p
Mincha Gedola
1:46p
Mincha Ketana
4:38p
Plag HaMincha
5:49p
Candle Lighting
7:43p
Shkiah (Sunset)
7:01p
Tzeit Hakochavim
7:37p
More >>
Mon, October 14 2019 15 Tishrei 5780