Social Action

Tikkun olam - "repairing the world" is a hallmark of Reform Judaism as we strive to bring peace, freedom, and justice to all people.
See the latest in our Social Justice efforts
Residents of Community First! Village enjoy dinner served by Temple Beth Shalom members in 2018.
---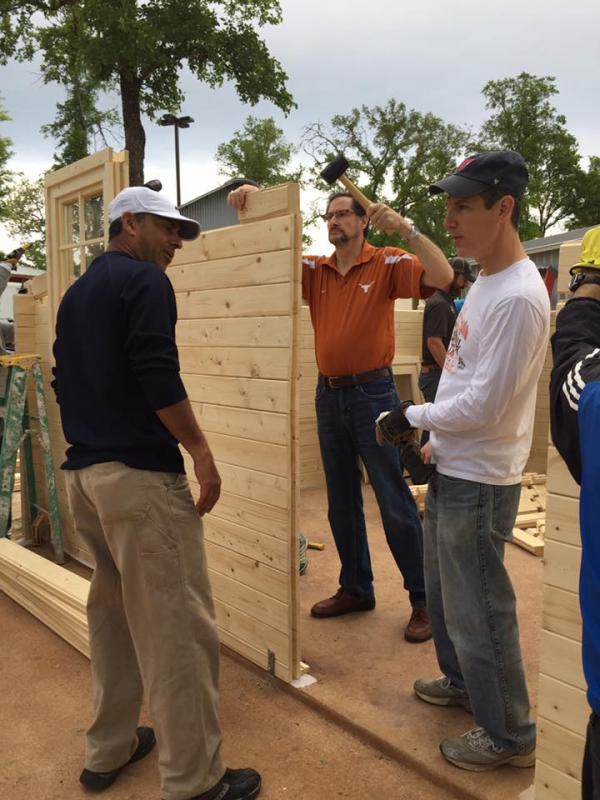 Service and Advocacy are who we are and what we do here at Temple Beth Shalom. We have two committees, Community Service and Advocacy, that organize a number of wonderful ongoing projects, as well as periodic events, throughout the year.
The Community Service Committee meets monthly to fine tune projects we're working on. We encourage you to join us! Your participation in Service and/or Advocacy at Temple Beth Shalom will allow you to help heal the world, make new friends, and feel really good... we promise!
We work with the larger Austin Reform Jewish community to create a sustainable formal structure for us to work together on social justice issues. We organize with clergy and lay leaders to promote community initiatives like poverty reduction, refugee relief, and criminal justice reform.
Interested in service or volunteer opportunities? Please visit our
Volunteer page
or check out our current projects below.
Current Projects
The Green Team

The Green Team at Temple Beth Shalom is dedicated to practicing Tikkun Olam (repairing the world) by empowering our community at the individual and organizational levels to minimize our impact on the environment.

Knitzvah

Knitting/crocheting hats,scarves, and gloves for those
in need in Austin.

Meals on Wheels

Deliver meals to homebound elderly, disabled and needy individuals.

Mitzvah on Wheels

A project to eliminate transportation barries that prevent
some of our members from fully participating in Temple Life.

Mitzvah Projects

Special projects in our religious and Hebrew school as well
as our students b'nai mitzvah projects.

Mobile Loaves and Fishes

Preps/serves food and creates micro-homes for the homeless
Record mothers at Gatesville prison reading a book to
each of their children and then send the book and CD
or tape with the mother's voice to the child.
Sun, July 25 2021
16 Av 5781
Today's Calendar
---
Upcoming Programs & Events
---
Erev Rosh HaShanah
View Calendar
Sun, July 25 2021 16 Av 5781