Mobile Loaves & Fishes
Mobile Loaves & Fishes and Community First! Village
Mobile Loaves & Fishes
Page updated 6/12/2023
Join your Temple Beth Shalom friends at Mobile Loaves & Fishes on the third Friday of each month at 11:00 a.m. to do odd jobs together. We currently package socks for delivery to the homeless and working poor. We do Make Ready (meal preparation) the third Sunday of each month at 3:00 p.m. and take the trucks out to serve the meals at around 4:00 pm. For more information about how to get involved, contact us.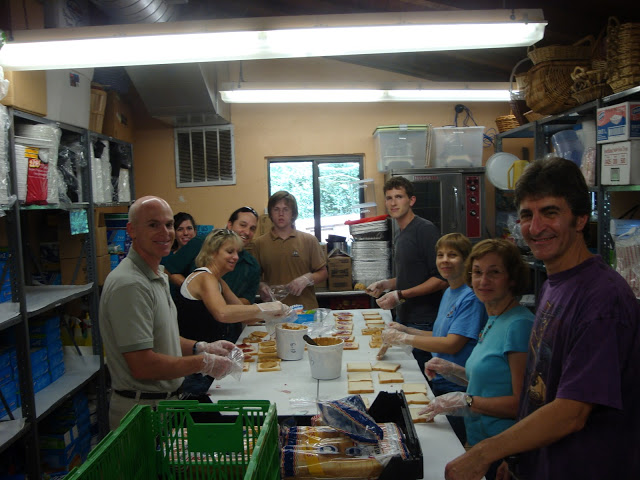 Temple Beth Shalom volunteers prepping food for Mobile Loaves & Fishes
Community First! Village
Temple Beth Shalom is a longtime supporter of the Community First! Village, which provides affordable housing to disabled and chronically homeless individuals in a supportive East Austin community.
Activities in 2022-2023
Our annual Community First! Village Dinner and Bingo Night was a very big success this year. Over 35 Temple Beth Shalom volunteers partnered with more than 20 volunteers from Westlake United Methodist Church to make and serve a complete meal of Sloppy Joes on buns, coleslaw, beans, and fruit to more than 75 CFV neighbors this past December.
Westlake United Methodist Church volunteers helped cook the food that was served and facilitated the game playing as well as purchasing prizes for the Bingo game winners.
Our Knitzvah Coordinator brought more than 200 handmade knitted items (scarves, hats and gloves) made by Knitzvah volunteers throughout the year and organized the distribution of them all.
Our date for the 2023 event will be Tuesday evening, December 19. Mark calendars now and join in the fun and excitement of this important service event! Helping hands and open hearts are always needed in so many areas, including food prep, serving, clean up, greeting and interacting with all of those who live at Community First! Village. It's always a wonderful time for everyone.
Members, log in to see more photos from the Community First! Village Dinner and Bingo night.
---
Temple Beth Shalom volunteer are shown constructing a micro-home that the temple funded, which was completed in one day, on April 6, 2016.
Sat, September 23 2023
8 Tishrei 5784
Today's Calendar
---
Upcoming Programs & Events
---
Kol Nidre
View Calendar
Sat, September 23 2023 8 Tishrei 5784