Mobile Loaves & Fishes
Mobile Loaves & Fishes and Community First! Village
We are thrilled that the Mobile Loaves & Fishes Community First! Bingo & Dinner is back this year, on Dec. 20. Volunteers are greatly needed to make this evening a success. It's an opportunity give back to our neighbors and get to know the Community First! Village community. This volunteer opportunity is great for all ages, so volunteer together with friends and family. For the safety of all, masks are required. Westlake United Methodist Church is proud to partner with Temple Beth Shalom to make this event a possibility, and we look forward to seeing you there!
Mobile Loaves & Fishes
Note: Mobile Loaves & Fishes meal prep is currently suspended.
Join your Temple Beth Shalom friends at Mobile Loaves & Fishes on the first and third Fridays at 11:00 am to cut and bag donated pastries for delivery to the homeless and working poor. We do Make Ready (meal preparation) the third Sunday of each month at 3:00 pm and take the trucks out to serve the meals at around 4:00 pm. For more information about how to get involved, contact us.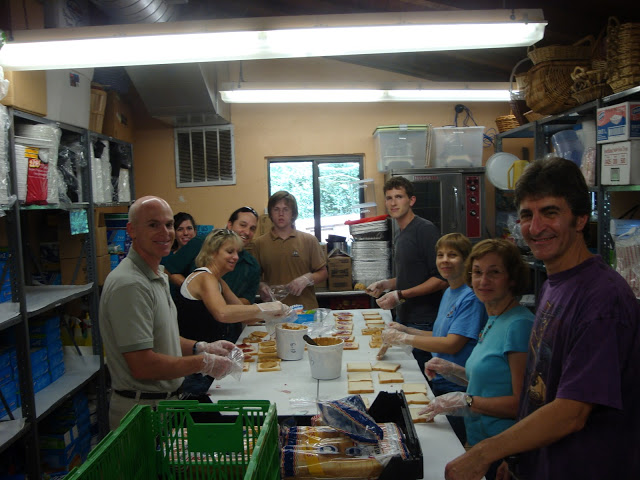 Temple Beth Shalom volunteers prepping food for Mobile Loaves & Fishes
Community First! Village
Temple Beth Shalom is a longtime supporter of the Community First! Village, which provides affordable housing to disabled and chronically homeless individuals in a supportive East Austin community. Below, our volunteers are shown constructing a micro-home that the temple funded, which was completed in one day, on Wednesday, April 6, 2016.
Mon, January 30 2023
8 Sh'vat 5783
Mon, January 30 2023 8 Sh'vat 5783